Gas Safety Certificate In Harrow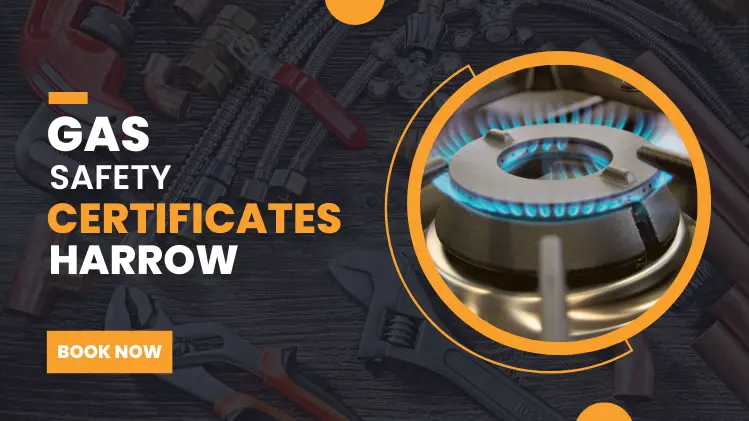 As a landlord, you have a responsibility to keep yourself, your tenants, and your property safe.
This includes making sure that all gas appliances in your property are in good working order and up to safety standards.
Landlord Property Certificates provides gas safety certificate to landlords, home buyers, home sellers, real estate agents, and also for renting a house or flat. We cover all Boroughs of London and M25 areas.
Our Gas Safe registered engineers will carry out a thorough inspection of all your gas appliances and issue you with a certificate if everything is in good working order.
If you're looking for peace of mind and reassurance that your property is safe, then get in touch with Landlord Property Certificates today.
We'll be happy to provide you with a Free Quote for our gas safety certificate service.
Gas Safety Certificate Cost has no hidden charges and taxes. Congestion, ULEZ and Parking will be charged for the Central London.
Boiler Service and Gas Safety Certificate
Gas Safety Certificate with Other Safety Certificates
Gas Safety Certificate In Harrow – The Landlord's Responsibility
To protect you, your tenants, and the value of your home, all gas appliances must follow strict regulations. 
You'll need a Gas Safety Certificate (GSC), which is only valid for 12 months. Because the certificate expires after one year, it's crucial to keep track of when it needs to be renewed.
To find Gas Safe registered engineers near you. 
What is a Gas Safety Certificate?
A gas safety certificate is an important document that proves that your property's gas appliances are safe to use. 
The certificate is also known as a landlord's gas safety record or a CP12.
Your Gas Safety Certificate will be valid for 12 months from the date it was issued.
SAMPLE: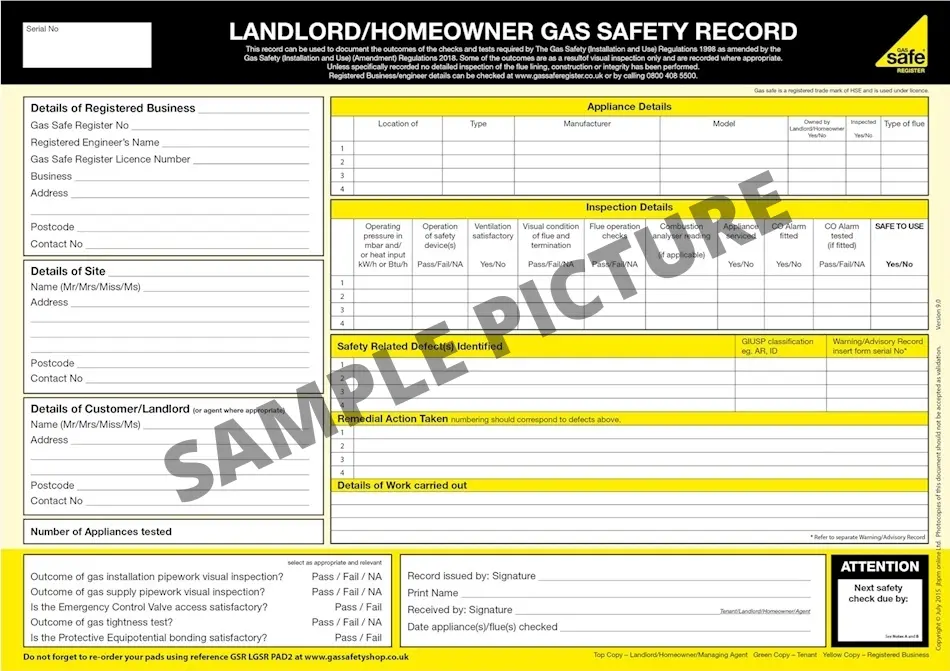 Which appliances need to be checked?
Gas-using appliances, such as cookers, fires, and boilers, must be inspected.
Why do I need a Gas Safety Certificate?
The Gas Safety (Installation and Use) Regulations 1998 requires that you have your gas appliances inspected at least once a year by a Gas Safe-licensed engineer. After the inspection is complete, you must keep a log of all findings for at least two years. 
Additionally, you should provide your renters with a copy of these results within 28 days.
What does the inspection of the Gas Safety Certificates involve?
During the inspection, the Gas Safe registered engineer will:
check that each appliance is safe to use

make sure that no dangerous flues or fumes are escaping from the appliance

service the appliances as needed
If you have any questions about Gas Safety Certificates, please Contact Us at 020 8123 9487.
An annual Gas Safety Check process during inspection
Every year, you should schedule a gas safety check to ensure that your appliances function as they should. 
A Gas Safe registered engineer will come and inspect everything to make sure it is all up to code. 
This not only keeps you safe but could also save you money in the long run.
Gas appliances are working in the right direction with accurate pressure level

Dangerous gases are being cleaned from appliances

Be Safe from Gas Fire and Leakage

Gas Safety Check will find the problems and remedies for your gas work

Visually inspecting all gas appliances, pipework, and flues to identify any possible problems

Checking to ensure that all required ventilation is provided

Testing flue flow to ensure inflammable materials are removed

Checking that all flame failure devices are operating in order

Checking for verification of unsafe operation
Why choose us for the Gas Certificate?
When you choose Landlord Property Certificates, you'll get a Gas Safety Certificate that Londoners truly deserve. 
Unlike other businesses, we provide a comprehensive service at the best value for your money.
Highest Customer Satisfaction
A Gas Safety Certificate from our team of professional engineers will provide you with the peace of mind knowing your home is safe.
Qualified Gas Safe Engineers
People usually pick Landlord Property Certificates for many reasons, with one of the primary being our gas-safe engineers' high qualifications and excellent training. 
They can help you with anything you need anytime, be it concerning gas or heating.
Highly Experienced
Having decades of experience in both ground and high-rise property services, we are one of the longest-lasting landlord safety and maintenance firms in the UK. 
We have successfully provided these services throughout London and its suburbs for years.
Affordable Pricing
Our Gas Safety Certificate London services are not only high quality but also budget-friendly.
Hassle-Free Online Booking
To book our service for a Gas Safety Certificate in London, you don't have to go through the hassle of coming to our office or making any unnecessary calls. 
Just choose the gas certificate option that suits your purpose the most, click on "Book Online" and by filling out the form your order will be done in no time. We also give free quotes on London gas safety certificate costs for your convenience.
What happens if I don't have one?
Not having a Gas Safety Certificate could result in a £6,000 fine. 
If your gas appliances cause any property damage, you will be held responsible.
What can I do to prevent this in the future?
Make sure that you have Gas Safety Certificates for all appliances on your property, and that you keep track of when they need to be renewed. 
You can find Gas Safe registered engineers in your area by calling 020 8123 9487.
Why did your Gas Safety Certificate or CP12 fail?
Not to Current Standard (NCS)
This appliance or flue hasn't been serviced and will require additional investigation by a certified Gas Safe registered engineer.
At Risk (AR)
This notice warns you that your appliance or flue is in a very dangerous condition and needs to be repaired or replaced immediately.
Immediate Dangerous (ID)
If you smell gas, this means the appliance or flue might be in an unsafe condition and there could be a gas leak. 
Turn off the appliance immediately if you think there may be a leak. 
If you have questions about Gas Safety Certificates. 
Please reach out to us at 020 8123 9487 for assistance.
How long do Gas Safety Certificates take?
It usually takes around 30-45 minutes to process a Gas Safety Certificate Test.
What happens after the Gas Safety Certification inspection?
After we install your appliances, a qualified Gas Safe registered engineer will inspect them. 
Once the inspection is complete, you'll be given a Gas Safety Certificate valid for 12 months. 
You must keep this document on file for at least two years and provide renters with a copy of it within 28 days after they move in.
What are the benefits of having a Gas Safety Certificate?
Appliance safety is important in every home. 
Gas Safety Certificates guarantee that your appliances meet certain safety standards, such as checking for poisonous flues or fumes. 
This certification can help prevent accidents and give you peace of mind knowing a qualified engineer has checked your appliances.
How do I book a Gas Safety check?
You can book a Gas Safety check by calling us at 020 8123 9487 or Clicking on BOOK ONLINE. 
We'll be happy to help you to provide our Gas Safe registered engineer in your area.
It is legal to sell a property without a Gas Safety Certificate but it is highly recommended that you will need to arrange for a Gas Safety check to be carried out by a Gas Safe registered engineer.
The person who is buying the property would know the gas appliances are safe to use and there's no gas leakage in the property.
No. Gas Safety Certificates can only be issued by Gas Safe registered engineers.
Yes. Gas Safety Certificates are required for all properties that have Gas appliances.
Gas Safety Certificates cost £60-£80, depending on the number of appliances that need to be checked.
Gas safety checks involve inspecting all Gas appliances in a property to make sure that they are safe to use. The engineer will also check for any dangerous flues or fumes escaping from the appliances.
If you don't get Gas Safety checks, you could be putting yourself and your family at risk. Gas appliances can produce dangerous flues and fumes or gas leakage, which can lead to accidents and injuries.
You could also be breaking the law. It is illegal to use Gas appliances without a Gas Safety Certificate.